Ms Laura Scott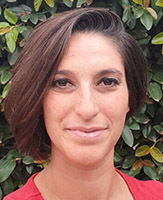 Laura Scott is a bilingual (Italian and English-speaking), Clinical Neuropsychologist. She has spent the last decade providing diagnosis and rehabilitation care to a wide range of people with brain injuries and illnesses in hospital, community and correctional settings across New South Wales, Victoria and the Northern Territory.
She has been employed at various times by Alfred Health, Monash Health, St Vincent's Health, Calvary Health Care Bethlehem, Forensicare, Florey Institute of Neurosciences and Mental Health and the National Drug and Alcohol Research Centre (NSW). She currently works predominantly in private practice. She is an AHPRA Endorsed Clinical Neuropsychologist with membership of the Australian Psychological Society (MAPS) and is a Fellow of the College of Clinical Neuropsychologists (FCCN).
Laura offers neuropsychological services that are:
Innovative – she systematically explores all available options to help clients optimise their cognition and daily function. She supports clients and care teams to think creatively about how to overcome challenges and reach their goals.
Compassionate – she works holistically and enthusiastically with a diverse range of clients and their supports. She has particular experience working with people who are gender diverse, have significant hearing impairment, are of Aboriginal heritage, are non-English speaking, are refugees/asylum seekers, live in regional/remote areas and those with a history of incarceration.
Grounded – she plans and delivers neuropsychological services that are firmly grounded in current theory and best practice.
AREAS OF PARTICULAR INTEREST
ADHD & Autism
Positive Behaviour Support
Progressive neurological disorders (particularly movement disorders and rare genetic diseases)
Neurological rehabilitation
Dementia diagnosis and treatment
Medicolegal assessment (primarily criminal matters and decision making capacity)